| | |
| --- | --- |
| | Greetings. My name is Bruce Reaves. With my trusty sidekick pat mAcdonald's uneasy blessing, I'VE CREATED THIS WEBSITE (with some tremendous technical help and creativity from Troy Therrien and Dana Hooton) and have also accepted the position of Sole (soul?) Ringmaster. |
In 1997 pat mAcdonald started his solo-career.
His debut "Pat MacDonald Sleeps With His Guitar" was acclaimed
worldwide and pAt embarked on many tours throughout Europe.
Solo Album Discography
Pat MacDonald Sleeps With His Guitar (Ark 21), (1997)

"These songs seem to be mostly about looking for something, and not always knowing what it is," explains pat. "I always wanted to dig deeper, but when you're trying to speak for a group, there's always that pressure to be 'up.' I'm not trying to bring anyone down here, music is supposd to be an uplifting thing. But there's two ways to lift something: you can come from up above and pull, or you can get down underneath and push. I guess that latter is what I am trying to do now."

So does pat mAcdonald really sleep with his guitar? "Yeah. I do but it's not a sexual thing. It's not even platonic. It's more like a master/slave relationship. I'm the slave."
-Christopher Hess- Austin Chronicle

Begging Her Graces (Ulftone), (1999)

His songs shudder with a dark intensity, sung by a knowing voice fronting a formidable wit. And the literary acrobatics are only half the story; the music on this European release, enhanced by producer John Parish and many other contributors, is both delicate and defiant, an unusual depth for the traditional instrumentations, and a strange familiarity with lute, varija, and archilaud.
There's a lot pat mAcdonald hasn't told us -- not yet, anyway.
-Christopher Hess- Austin Chronicle

Degrees Of Gone (Ulftone), (2001)

A lesson in life from the guitarist and songwriter. Outside. Travelled. Vanished. Gone. Dead. Forgotten.
"Degrees of Gone". The nothing and the next-to-nothing. "I´m out of drugs and I´m all out of
wine/ No more tears, nothing left to pine for."
The Berlin-based Avant Garde-Folk Punk-strings of THE INCHTABOKATABLES enhance the record with their own blend of intimate, highly-dynamic string arrangements.
-Rollling Stone- (Germany)
Strange Love: PM Does DM (Ulftone), (2003)

By beginning to play one or two DEPECHE MODE songs in concert, backed only by his electrified acoustic guitar, mAcdonald was overwhelmed by the audiences reactions. "It was unbelieveable: people came to me after the show and wanted to buy recordings of these songs the way I played them."

Producer John Parish was along for one of these shows and was convinced pat should record a complete album of DEPECHE MODE cover versions, or interpretations, rather, since pat plays these songs in an incomparable way which adds detail and intimacy one would not expect by experiencing what most people consider "covering a song".
Ulftone Music Review

in the Red Room (DarkPresents), (2004)

Channeling early blues legends, but modernizing the sound they pour into his soul, rocker pat mAcdonald delivers a record that brings wit, style, and good ol' rock 'n' roll to the blues and Americana genres. Recorded entirely live, there is no studio trickery or Pro-Tools walls to hide behind here. This is pure, in-your-face music comprised only of a voice, an electric guitar, harmonica and a stomp board, ensuring an album that is as real as someone playing in front of you.
It's a fiery, stomping collection of thirteen tracks that will turn up the heat and make you want to groove.
-Alex Steininger- CD Baby

Troubadour of Stomp (Broken Halo), (2007)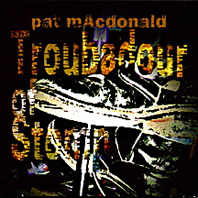 These songs speak to all of my musical sensibilities..... dark, low-end, visceral, sexy, gothic, Americana, phat, swampy rock... it is one of those CDs that you want to listen to as LOUD as humanly possible.... which IS possible since every tone has been put to the test of pAt's notoriously particular sonic scrutiny... Troubadour of Stomp is one of those CDs that causes you to want to drive too fast (take that as a warning), dance like a fool set on fire and then find the nearest cute boy (or girl) to steal away with into a dark corner of a smokey club...
I crave to hear these songs....
-melaniejane- Singer/Songwriter/Recording Artist

Re-release - in the Red Room (SB United) (2008)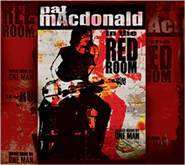 SB UNITED IS PLEASED TO ANNOUNCE A LIMITED EDITION CD RE-RELEASE
OF "in the Red Room". THIS pat mAcdonald CLASSIC HAS
BEEN UNAVAILABLE SINCE EARLY 2006 AND IS BEING RELEASED WITH AN
ALL NEW 4 PANEL+DISC GRAPHIC DESIGN BY NOTED ARTIST TIFFANY
TRAVALENT WHO'S CREDITS INCLUDE Bob Dylan, John Fogerty, Astrid Young,
Eric McFadden and The Legendary Sons Of Crack Daniels.
Purgatory Hill - 2009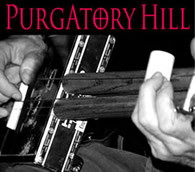 "SLINKY, GROOVY, BLOOZY, BOOZY, DIRTY, SWAMPY, SEXY, DANGEROUS,
WIPE-THAT-DROOL-OFF YOUR MOUTH, SON, HOWL-AT-THE-MOON MUSIC"
-Paddy Fineran, Kenosha News-