"I've always been drawn to the lower notes on the
guitar," says mAcdonald when questioned about his sound.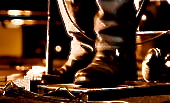 His trademark is a unique dirtch of dark and
murky blues boogie and sex-swamp. He is the epitome of an old school one man show with his custom made boot stomp box, electric semi-hollow guitar and a voice that is at once angelic and evil.
The heart stop of a subwoofer aid in the haunt and the "spooky modal mountain melodies" of his music. He spent hours in his room as a teenager listening and playing to John Lee Hooker which is evident in the way he approaches sound and emotion. After seeing mAcdonald solo, it is easy to see how other instruments might just get in the way of the boogie spook and feelings he nails.
It is a feat to stand out amongst a sea of mediocre singer/songwriters. pat does this easily and even more so when he is sandwiched between standard rock formats. His sound is an easy lay in any environment, finding comfort in a roadhouse or music hall. His lyrics are strong and the feeling comes through beautifully in the nakedness of the solo delivery. There is a scent of the sweet and dangerous, of the sexy and vulnerable. This is no surprise hearing pat talk about music. "Music is ethereal sex, like having sex in the air." Or how he describes the meeting of mind and body in his songwriting. "Songwriting can be consciously putting complex thoughts into metaphor, but if you are not expressing the horny human animal part of you then the thoughts get in the way of the feeling. My favorite music has both going on, when the two parts of human nature find harmony."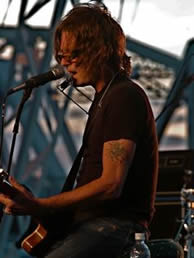 Listening to a pat mAcdonald record, it becomes clear he practices what he preaches. His songs get in your head and you are forced to put his record on, not because you can't get it out of your head, but because you ache to hear the real thing again
pat has the salt and pause of an elder statesmen when he speaks about his philosophy of music and life. When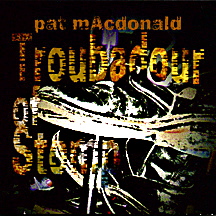 asked about his denial of over a million dollars in advertising, he makes a point to state that his own opinions on the subject should never condemn anyone else in their choices. "Everyone has to find their comfort zone," he says, "Music adds magic to a product being sold, but for me, the product robs magic from the music. I made a promise to myself a long time ago. It's good to keep promises you make to yourself."
Jason Broome, PERFORMERMAG.COM
mAcdonalds ability to craft wry paeans to dislocation and disappointment and put them inside catchy, often upbeat tunes makes him one of rock music's enduring, well-kept secrets. There are very few people out there who have the longevity and still possess the kind of brilliant power he does. -PORTLAND TRIBUNE
"The red Continental stage glowed like a glimpse of hell's own circus. mAcdonald morphed into the dark angel in devil's drag, beckoning me into his strange carnival of sideshow music so wicked it redeemed the soul and left me feeling purified."
-Margaret Moser - Austin Chronicle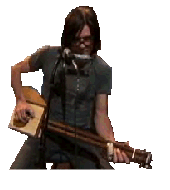 By J. W. Mahoney (Washington, DC) - Amazon.com
pat mAcdonald continues to create a deeply uncompromised music out of the idioms of the deadliest swamp blues, strained through a sharply agonized 21st century intelligence. pat can't, won't let go of the pain, until it's time, if that time ever comes. This music was made like a Japanese samurai's sword - heated, bent, and folded, over and over, until it becomes as hard as it is supple. The edge of this music is razor-thin - three revenge songs from a collapsed marriage (according to the liner notes) - but pat mAcdonald had made an album about survival, not defeat.
When asked about his writing process, mAcdonald admitted, "I wake up with a song idea, grab my guitar, and write it before I get out of bed." Much of "Troubadour of Stomp" was written in this form. Regarding tracks off the album, mAcdonald divulges with a chuckle, "A lot of those songs were written naked."