pat and the Steel
Bridge SongFest
The Steel Bridge Songfest is an annual volunteer community historic outreach event produced by Citizens for Our Bridge and is now the largest Americana songwriter showcase in the Midwest.
The 3 day celebration is designed to promote community activism and historic preservation and to also increase local economic impact through the use of artistic expression to an audience not normally drawn to such a dry subject.
The festival mixes major speakers with songwriters of national and regional prominence who display a strong affinity for social responsibility and historic preservation.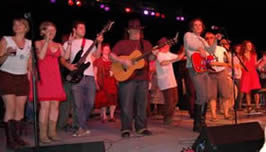 The purpose of the Steel Bridge SongFest
is to also raise local, state and national awareness of the Michigan Street Bridge through original songs written, based on a "Bridge" metaphor and volunteer public performances.
The Songfest and CD compilations, aim to promote, build and maintain the first of its kind public/private, long-term historic preservation "Michigan Street Bridge Fund", which is held by the National Trust for Historic Preservation in Washington DC . The fund is designated to be used in the future, to promote and protect the Michigan Street Bridge as a one-of-a-kind attraction within the State of Wisconsin.
The proceeds through outreach and sales, will be used to promote the preservation of the bridge and supply the GAP financing needed for preservation efforts, and address some of the ongoing PREVENTATIVE yearly maintenance costs, which are not currently covered by Federal or State financing and which the lack of, got it into the disrepair today.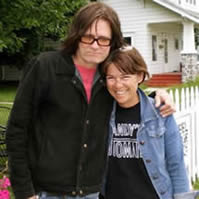 How the Steel Bridge SongFest was born...
"My sister Christie is a bridge lover from way back. We were talking one day about the bridge and hit upon the idea: That old bridge is a symbol of Door County. Its past, its present, and especially its future should be celebrated, not debated. We decided to throw a free concert to raise awareness and donations."

"So I asked a couple of good friends for favors. Jackson Browne, great humanitarian that he is, agreed to come play for free. Then Sheila Turner of Great Lakes Yacht Services generously donated the use of her boat yard, a dream-come-true outdoor venue. There's even a roof in case of rain."
pat mAcdonald, Steel Bridge SongFest host and co-founder
Saturday, June 11th, 2005, SBSF1
The Great Lakes Yacht Services boatyard provided the setting for the first Steel Bridge SongFest. When not serving as the largest stage in Door County, the yard is used as a working area for servicing boats. Its location at the approach to the Sturgeon Bay Bridge and in the downtown Sturgeon Bay Historic District makes it one of the most intriguing sites in the state, and even the nation, for a music concert. Singer/songwriter Jackson Browne called it "one of the most beautiful places I have ever played in the world and I have played in a lot of places."
The stage is situated in such a way as to allow concert-goers to watch the bridge tender manage the lift for boats to pass. Throughout the concert, which begins at noon, fans can listen to music and boat horns in concert as yachts work their way past the concert venue. A canopy protects everyone from the heat, and a spectacular sunset tops off the day. At sundown fans watch the moon rise as the final musicians do their encore performances.
The free concert was a huge success. It drew approx. 3,000 people and raised roughly $60,000 in voluntary donations, which financed the event and started a special fund, held by the National Trust for Historic Preservation, earmarked for all
expenses related to saving and preserving the bridge.

With the first Steel Bridge SongFest came a dramatic shift in awareness and sentiment. "Bridge Lovers" are now out of the closet.
SBSF2 June, 2006

Mr. Browne so enjoyed his first Door County experience, he signed on for a follow-up. Hundreds more from across the U.S. took his lead. Early arrivals filled the Holiday Motel across from the concert grounds. Songs were written and recorded there, new bands formed, impromptu concerts happened all over town, Sturgeon Bay bars and coffee shops reported record business and Door County partied like never before.
A beer-sponsored "Safe Rides" program and other temporary public transportation made sure people got home alright, and police reported an eighty-percent reduction in drunk driving arrests that weekend.
With the bridge as its beneficiary, the SongFest has developed into much more than a concert. It celebrates live music, activism, historic preservation and creativity. Components of the event now include:
• Take It To The Bridge. An all-day, benefit concert headlined by Jackson Browne on Saturday, at the Great Lakes Yacht Services boatyard.
• Take It Inside. Three nights of live original music are featured in multiple venues around town, including all-ages shows. Venues include The Nautical Inn, The Red Room, Poh's and the Pudgy Seagull.
• The Construction Zone. This component brought original songwriting into the festival mix. Twenty-five songwriters were invited for three days of intensive collaborative songwriting at the historic Holiday Motel. Writers were encouraged to write songs loosely based around the metaphor of a steel bridge. (The Construction Zone is for invited musical guests only.)

• The Steel Bridge Songfest CD. The best songs to come out of the songwriting workshops are captured in the studio to be released the following year. Songwriters perform their original creations on the concert stages and at the venues around town and those performances are also recorded for possible inclusion on the compilation.
When the musicians disbursed, they left behind a fired-up local music scene and a wowed public. They also left over 60 songs immortalizing the bridge, the Holiday Motel, the beauty of Door County, and the kindness of the community that so lovingly received them.
SBSF3 June, 2007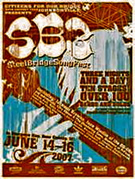 Upon arrival Sunday June 10, 2007 the selected songwriters used the Spin the Bottle game to get their writing partners. The random selection resulted in songwriters being paired with people they might not have otherwise teamed with. Throughout the week, the bottle spinning is repeated to re-sort the teams.
""I used to go to this castle in France that was owned by the brother of the drummer for The Police (Miles Copeland), "He was my publisher at the time. We were set up in groups of three to write songs. The groups were chosen very scientifically. Here we use Spin The Bottle..." - pat mAcdonald -
All writers were headquartered at the historic Holiday Motel where a custom-designed recording studio has been installed. Steve Hamilton of Makin' Sausage recording studio in Milwaukee, Wisconsin and studio manager Chris Aaron worked with the songwriters to record their original compositions. The songwriters also work with each other on their recordings. They also performed their new songs live in venues throughout Sturgeon Bay on Thursday, Friday and Saturday evening. An all-day concert at the Great Lakes Yacht Services shipyard on Saturday featured many of the new songs as well.
The 2007 festival also celebrated the release of fifteen songs chosen from almost 60 written at the 2006 festival on a CD called Steel Bridge Songs Vol. 1.
SBSF4 June, 2008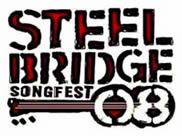 When 25 songwriters met in Sturgeon Bay in June, 2008 they bridged cultural differences, music genres, age gaps, and composing styles to participate in a week of collaborative songwriting.
What happens when you take 25 songwriters from all over the map, both literally and creatively, and throw them together for a week? Lots and lots of lyrics and music. That's what happens. In only two years of past Construction Zone workshops, more than 120 original songs have been composed, performed and recorded. Two compilations of selected songs have now been released, and a third is in production.
In the true spirit of community that is a hallmark of the Steel Bridge SongFest, (since the renovation of the Holiday Motel encountered some delays and could not host the Construction Zone) a neighboring property was made available by Jon and Patti Hanson for the songwriters. The Beach Harbor Resort was the headquarters for the workshops during this year's festival. A temporary recording studio was erected and manned by Steve Hamilton at the resort and two ancillary studios were erected in other locations around town to capture this year's original songs.
This year's songwriter roster held some familiar names for those who follow the indie songwriter scene, and some who are just beginning their songwriting careers. They came from as near as the next scenic Door County town to as far away as London, England. They included a 15-year-old local Seth Raddatz from Sister Bay, WI; Louise Goffin (daughter of one of the most famous collaborative songwriting teams ever--Jerry Goffin and Carole King), Los Angeles, CA; Chris Simmons, London; Danielle Gasparro, New York, NY; Kacy Crowley, Austin, TX; and Lynda Kay, Venice, CA.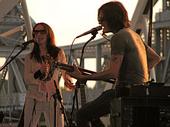 The diversity of songwriters allowed for some interesting collaborative efforts. Ages ranged from 15 to 56. Some of the writers have had a taste of stardom already. Others had to ask for time off from their day jobs to attend the workshop. But, all had what it takes to make it in The Construction Zone: an unquenchable need to put words and music to paper and hear them transformed into live performances and studio recordings to be possibly included in next years CD compilation.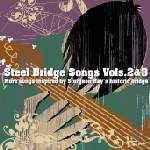 A 2 CD disc package with songs written and recorded at the 2007 festival called Steel Bridge Songs Vols. 2 & 3 was released at SB4.
"Four Days of Music & Discovery"
June 11-12-13-14 !!
STEEL BRIDGE SONGFEST 2010 - JUNE 10, 11, 12, 13th was a HUGE success with many new artists and old favorites igniting always enthusiastic audiences.
STEEL BRIDGE SONGFEST 2011 - JUNE 9,10,11,12 -Thanks to everyone
who helped make SteelBridge2011 such a great success!!!
STEEL BRIDGE SONGFEST 2012 - JUNE 7, 8, 9, 10 - Another great festival with 2 main stages and beautiful weather!!