Articles and Commentary
US NEWS and WORLD REPORT:: (5/25/98)
Shake, Rattle, and Please Buy My Product
Madison Avenue pays big bucks for tunes
By John Marks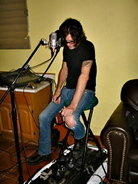 Record company boss Miles Copeland recently invited nearly 100 songwriters to his chateau in the South of France for two weeks of music, foie gras, and fellowship.
When songwriter pat mAcdonald showed up for the annual event, he was asked the same old question: Why in the name of Elvis Presley won't he let his songs be used in television commercials?

In 1986, Bausch & Lomb offered mAcdonald $150,000 for the rights to use his Top 40 hit "The Future's So Bright I Gotta Wear Shades" to advertise its Ray-Ban line of sunglasses. But the singer-songwriter, then fronting a band called Timbuk3, said no deal. A few years later, Clairol upped the ante to $450,000 for another of his songs, "Hairstyles and Attitudes." mAcdonald turned that down, too. And last year, the artist rejected a $500,000 offer from fast-food giant McDonald's, once again for "The Future's So Bright".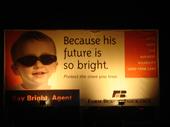 The company hinted that it might go as high as a million, but mAcdonald still wouldn't budge--even though his only permanent address is a rented motel room in Austin, Texas. "I'm constantly feeling like somehow I have to justify my choice to people," says the scruffy, soft-spoken mAcdonald.

Often, the owner of the rights to the song can block its use. The family of Hendrix, for example, closely monitors the licensing of his music, frequently refusing the rights when requests are deemed inappropriate. Some, like mAcdonald, deny use altogether. This was so important to the songwriter that the last time he negotiated his contract with the Copeland Group, he had a clause inserted granting himself the right of refusal--a move that cost him other points in the contract, including money. Other artists are similarly stubborn: Neither Bruce Springsteen nor Paul Simon allows their music to be used in TV commercials.

But the songwriter won't compromise because he feels that his own songs would be ruined for him, as Lou Reed's "Walk on the Wild Side" was for mAcdonald, by its use in a Honda commercial.
NO DEPRESSION MAG, ARTICLE:
2006 No Depression Magazine Article
about pat mAcdonald, Sturgeon Bay, Wisconsin
by Andy Moore
Twenty-odd years and a thousand songs ago pat mAcdonald got the shit kicked out of him by members of the Green Bay West High School football team. mAcdonald wore his hair long and in those days, particularly within three miles of the hallowed ground that is Lambeau Field, that just didn't fly. The football coach himself, soon to be principal, ordered the hit on the rangy, teenaged musician.

The attack happened just as mAcdonald was getting expelled for his hair. Long haired rockers were getting beat up all over the country in 1969. What makes mAcdonald's whupping different is that Bob and Elaine MacDonald sued the Green Bay Public Schools, holding them liable for the coach's instructions and the players' actions, and took their case all the way to the Wisconsin Supreme Court.
The phone started ringing almost immediately after the lawsuit was filed. You just didn't target the high school football coach in Green Bay, Wisconsin. Neighbors, former friends, and strangers called to let them know it.
Smilin' Bob MacDonald, a loyal member of the community and journeyman engineer at the Charmin paper mill, became a pariah overnight. mAcdonald vs. the Green Bay Board of Education was settled before the high court ruled. Attorneys drafted a settlement awarding the family a million dollars. Bob MacDonald turned it down. Instead, he asked for $1,500, a sum sufficient to cover his legal expenses and travel. And he asked that his son be allowed back in school."They didn't want people to think they did it for the money," remembers Christie MacDonald Weber, pat's sister."They were saying, in their own way, 'we won't sell out.'"
Today Weber believes their parents' actions are directly tied to her brother's reputation for turning away millions of commercial dollars for his songs, including Timbuk3's camera ready 1986 hit "The Future's So Bright (I Gotta Wear Shades)"."So many musicians write pat off as a whack job for turning his back on those millions," says Weber. "But many of those same people know deep down music sales are abused by corporations."
These days the troubadour of stomped is the Troubadour Of Stomp, the name of his new solo CD, a dozen brazen new songs packed with mAcdonald's lusty, low-end guitars, stormy harmonica and falsetto singing. Oh. And some of the best word play in American music. " Someone said a good song reveals stuff you don't want others to know about you," mAcdonald says over afternoon eggs last October, 2006 at the Pudgy Seagull in downtown Sturgeon Bay,Wisconsin.

mAcdonald writes like a trickster, and he looks like one, too. As we talk his craggy face appears briefly and then dashes behind a curtain of auburn hair. He looks at you like you're an idea, albeit a good one, rather than a person sharing a late lunch.
And then there's his speech pattern. Talking with mAcdonald is like dialing in a signal on a ham radio. The listener has to resist the urge to reach across the table and bang the radio on the head to establish transmission. Long time mAcdonald friend and collaborator Jackson Browne described this phenomenon best: "You have to actually slow down and sort of get on his wavelength and time. He starts. He starts over again. He repeats part of what he said and then, 'yeah, uht, uht, uht...'' and then he lunges headlong into this amazing thought. In that regard he's like a jazz soloist. He plays with words. He's always playing."
And he's always writing. mAcdonald figures he's written a thousand songs. "These days I get better and better at rejecting songs that aren't working, which is good because lots of them are crappy." He sips his juice and shoots a mischievous smile. "A miscarriage of poetic justice."
The day we met, mAcdonald loaded his one-man rock band into the side door of the Osthelder Saloon, a shotgun tavern in the heart of downtown Sheboygan Falls, Wisconsin. Live, mAcdonald gets a maximum sound with a minimalist setup, and this crowd of 40 was about to get their ears waxed.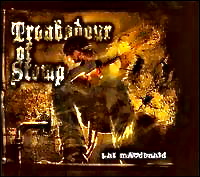 Troubadour Of Stomp is driven, and driven hard by mAcdonald's left foot. Clad in a custom made black Spanish boot, the musician stomps a quarter-inch piece of plywood with a kick-drum mike for a pick-up. When he first explained it to me I thought of John Hartford's kick board. But that's like comparing a Ford Taurus to an Alpha Romeo. "I always stomped anyway," mAcdonald says. "The stomp board turns something that once disturbed the downstairs neighbors into something that anchors and drives my music."
He first experimented with stomp in Spain during his expatriate post-Austin years in the 1990s. He had broken up with first wife and Timbuk3 partner Barbara K. Heck, he'd broken up with the whole city of Austin. Jackson Browne loaned him the use of his Barcelona apartment where another songwriting binge commenced. I asked him what a musician could do in Barcelona that he couldn't in Austin or Madison. "Date Spanish girls," he told me.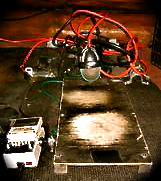 "Aside from being one of the great lyricists in the English language, he is a totally unique voice," Browne said, calling from LA."I saw him play a little gig in a Spanish bar in the Pyrenees. These people had no way of knowing how good the lyrics were because they didn't speak any English at all. He got going with his stomp board and playing his guitar and it was just so hip. It was so driving that they just turned on the strobe light and started dancing."
It's been a long trip home from the Pyrenees to the Osthelder Saloon in Sheboygan. But here he is. It's hard to overstate the influence family has had on mAcdonald because it's not clear if pat sees the connections himself. He does admit, however, that he's back in Wisconsin partly because "I've finally grown used to my family."
When he was growing up, his mother played guitar and sang harmony on Hank Williams songs with his dad. They didn't sing much after the '69 lawsuit. It caused the MacDonalds to take flight from Green Bay. Bob and Elaine bought the Bayside Inn, a tavern in Fish Creek, just up the highway from Sturgeon Bay, and are barkeeps there to this day.
mAcdonald ran away from home twice before he was out of high school. First to Colorado, then to Nebraska, where he gave police a false name, lied about his age and was thrown in jail for vagrancy. Elaine MacDonald not only tracked him down, but guessed the name he used as an alias in order to verify his lockup and post bail.
Then came Madison. The city fit mAcdonald to a tee. You could find Pat MacDonald & the Essentials in Madison in the late '70s every weekend and never see the same show twice. Madison was his muse, a fertile base for a prolific songwriting stretch. It was here, too, that he met a UW student named Barbara Kooyman. She took up the violin and began performing with pAt. The two fell in love with the music they were making and then with each other.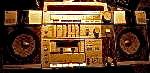 The couple moved to Austin, where their literate songs with the wag-ass beat granted them instant scenester status. Timbuk3 used a boombox on stage long before samples, loops and beatboxes appeared.
Alas, "The Future's So Bright" was ironically named. The wave of attention that came with it was a wave that swept Timbuk3 from the dingy floor of Austin's Hole in the Wall club and lifted them to the stage of television's Austin City Limits and Saturday Night Live. The intensity of that much success, that quickly, changes things. It was the end of mAcdonald and Barbara K.
While he takes his explosive solo shows to clubs all over the country, it's the paradox of pat mAcdonald that most of his post-Timbuk3 recordings remain unavailable in the U.S. I had to obtain two relatively recent pat mAcdonald discs from mAcdonald himself. Both produced by John Parish (yes, PJ Harvey's collaborator) and built in Spain, 2001's Degrees Of Gone, which features lush orchestral support from the Inchtabokatables, and 1999's Begging Her Graces. (Not to mention an entire album of Depeche Mode covers called Strange Love - PM Does DM.).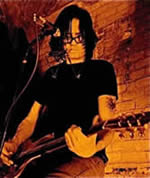 In the meantime, mAcdonald will continue to play small clubs and write. He'll also continue to turn away commercial offers for his music. Though "The Future" is now in the past, the raw nerve of mAcdonald's indifference to commercial success is still just below the surface for people like Miles Copeland who managed Timbuk3 in its Austin City Limits/Saturday Night Live-playing hey day.
"I turned down almost $3-million on his wishes to not 'sell out,' even though I had the legal right to license the song," Copeland told me. "pat was always one of the nicest people I worked with and he did have integrity to match his talent. But he was an 'art monster' in the full meaning of the word which would have been fine had we all been making a living from all our efforts."
Even Copeland still carries deep respect for him."I could always count on pat to write great lyrics, and in fact I'm considering hiring him again to put English words to some great Arab melodies I have. Hopefully he will be up for it."
I asked pat what his view of fame was. "From what I've seen of it, it means people treat you special, which means you get the kind of respect and consideration everyone deserves but so few get. Everybody wants to be known and loved in their community. Life is better that way. Anonymity is only a luxury to those who can afford to not give a shit."
Excerpt From Innerviews - A Chat With pat
Fresh horizons - by Anil Prasad
© Copyright 2004 by Anil Prasad. All rights reserved.
Tell me about Space Kitty Blues, the novel you're working on.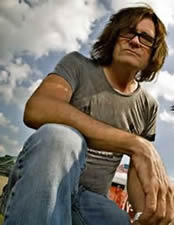 As you know, I am Matt Packard, who was in the one-hit wonder band from the '80s called Future X. We had a hit called "Space Kitty Blues" and in retrospect, it was a mistake. I let it be used in a cat food commercial on TV and lost my creative spark when I made the move to let them use it. It's like Samson and Delilah. Matt lost his creative spark. Delilah was his temptation — the cat food commercial.

It sounds quasi-autobiographical — a life you might have led had you let "Shades" be used in a TV commercial.

You could say that. Obviously, there are a lot of personal elements in that. In some sense, it's a fiction veiled in autobiography because it's definitely a story I constructed with my own life in order to tell the story. I used a lot of elements of my existence in Barcelona, but the story is a twist on my life.

Of course, I never did sell the song, but I could have easily done so at some point in time. It's about the decision that could have been made. That's how it relates to my life. It's how my life would be very similar, yet very dissimilar had I made slightly different choices.

The guy sells the song and loses his spark, because every time he tries to write a song from that point on, he envisions the commercial the song will ultimately be in because he didn't have the power of refusal. He didn't have the power of needing to give permission because his publishing contract didn't allow for it. I do have that power. If anyone wants to use my songs, they have to get my signature. That's not a standard thing unfortunately.

"Space Kitty Blues" is also the name of one of my own songs and I want to get it produced retro, '80s style. It's a song I did with John Parish on Begging Her Graces. It's just a drum loop, slide guitar, my guitar and a vocal. It doesn't sound '80s at all, but it could. It's got a very similar beat to another song that was a hit in the '80s. It sounds like "Shades." I want to include a CD with the book. Maybe that's what I'll do.

I'm sitting here at a point of completion. I thought it was finished, and now it's sitting there. I'm getting all these ideas about how I wanna improve it.

A lot of people don't know that you've already published a book or two.

Yeah, there are a couple of books of poetry that I wrote awhile back. The last one was in '95 and the other one was back in the '70s. I've got a handful of copies. I might redo them. There's also a graphic novel that I wrote called Trucker's Angel. It was sort of an

accompanying piece to the Timbuk3 song "Mudflap Girl." It's the legend of the Mudflap Girl. A guy called Paul Pope did the drawings. He does a lot of graphic novels and he's got a pretty good name in that world. It's a nice little comic book.
You've followed a staunchly uncommercial path, yet you've written songs for some of the most commercial artists around like Cher, Night Ranger and Peter Frampton. How do you reconcile that?

It's true. I co-wrote the single on Frampton Comes Alive II. I used to go to Miles Copeland's castle songwriting retreat [held at Chateau de Marouatte, Copeland's castle in the Aquitaine region of France. It was hardly a retreat. It was a real working week or two. You would write a song with collaborators. It was fun. There were a lot of people who came to that thing yearly. At one point, it became two times a year in the spring and fall.That single was written at the castle. Frampton is just a musician. He loves music and I wanted to write a song he'd sing in a lower register. If I'm writing with people, I like to do stuff they wouldn't normally do. So, basically that song came out of that. It was "Let's do something where you don't sing so high." He was great to work with man. He was really open and he's an artist. I really like the guy.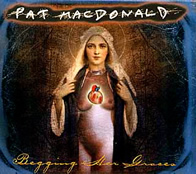 When I worked with Cher, we were doing songs she wrote herself, including all the lyrics. They were poems she wanted to put to music. That was a challenge. Her lyrics were anything but commercial. She said "fuck" in practically every song, just like she talks. It's her personality coming through. We wrote one song that got her in trouble with the Catholic church called "Sisters of Mercy" about her experiences in an orphanage when she was little. The nuns were like monsters. Nuns can be pretty mean to kids sometimes. I know, because I went to a Catholic grade school too. But some of them can be wonderful, beautiful people — innocent souls who chose that path. But Cher got in trouble because we were talking about the other ones. Someone raised a little stink somewhere.

People are people. It doesn't matter if certain people are fashionable or unfashionable. It's sometimes a perverse thrill to give someone really known for one thing the chance to do something else that's really weird for them. It's almost a psychological exercise. With Cher, that was not necessary. I didn't need to pull anything out of her. That was all there. She just spewed and had blunt, hard-hitting lyrics. They rhymed and were ready to be made into songs.

Have you made some decent money from the songwriting work?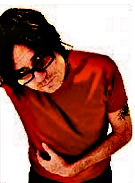 No. In fact I've probably had 50 songs commercially released on major labels that I co-wrote and have not seen one penny from any of them. I've not seen any mechanical royalties. Apparently Miles Copeland thinks the Harry Fox Agency is too expensive to join or something. So, he doesn't bother collecting a lot of mechanical royalties, evidently. It really pisses me off. In addition, he never registered any of my songs to BMI for my solo releases. Finally, last year, I realized my songs weren't registered. Somebody looked at the catalog and said "Oh, these songs aren't there." The only ones that had been registered were by people I had co-writing credits with on a few songs. My collaborators registered them. But Miles was supposed to do that himself. I didn't check to see if he had done it. Fuck, I realized I'd done tours of Europe and filled out these little forms naming the titles of songs I was supposed to be compensated for when they were played. All of those forms I filled out were for nothing. None of that stuff was collected because none of the songs were registered. It's a pretty piece of change for a guy like me, but for Miles it's just small change, so he doesn't bother with it. It's pretty pathetic.

Given all of that, how do you feed yourself?

Well I do get the BMI checks every quarter for the past catalog and the old stuff that's in a lot of movies and in a lot of synchronization with various media, as well as radio play. There's a lot of material. It's not all from the one, big hit song. It all adds up. So, I get a little check every few months and I play gigs. Between the gigs and royalties, I can eke out a living. If I took one or the other away, it wouldn't be a livable income by any stretch.

Given your dissatisfying experiences with Miles Copeland during the Timbuk3 days, why did you choose to release your first solo album (Pat Macdonald Sleeps With His Guitar) on his Ark21 label?

He made a lot of promises and had a lot of enthusiasm. There was a time when he wasn't the biggest supporter of Timbuk3, but he always thought I had a special thing for writing and performing my songs myself. He always used to tell me that. When he found out that Timbuk3 was breaking up and I was doing a solo disc, he was all excited. He must have thought he could do something with it, but when I finished the record, he went out to the people he sends stuff to in order to see if he'll have an easy time selling it or not. Those people supposedly said that it was pretty dark and wasn't gonna be an easy sell. I was kinda surprised because I don't look at it as being particularly dark although it's not cheesy, lighthearted music either with pumped up production.

Basically, Miles had the wrong advisors telling him that the record would be a real hard sell. If he had tried it on a different angle and had different people around him, he might have got a little bit more of a positive response, which would have in turn given him more faith in putting it out there and getting the listening stations at Tower Records going. I was always getting feedback from everybody that played it that they loved it. People who owned it played it for friends and everyone wanted copies. In that sense, it was successful — or potentially so. But it's a specialty item. It doesn't fall down the middle of what's an easy sell for the average guy.

Miles doesn't have much success with many things. He's the one who put out Manu Chao in the USA. I know the average person here has never heard of Manu Chao, but in Spain and most of Europe, he's a god. Miles put out his record here and it did nothing. He just has the wrong approach or something.
CLICK HERE to read an April, 2007 Guitar Player magazine article about pAt by Anil Prasad